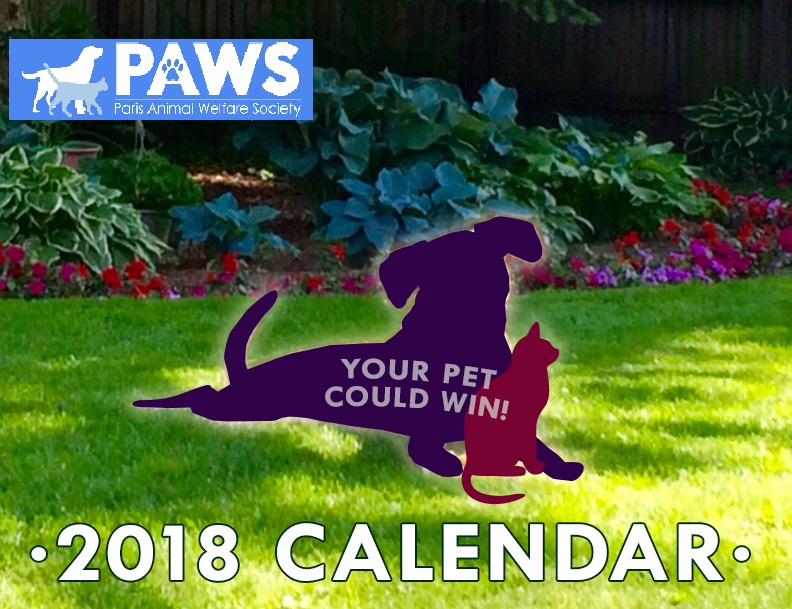 PAWS is currently accepting photo entries for our 2018 calendar! One lucky winner will be chosen for the highly coveted cover photo and twelve others will be selected as a "Pet of the Month." All photographs which adhere to contest guidelines are guaranteed to be included in the calendar!
All entries must be received no later than August 31, 2017 to be considered. The entry form will close at 11:59pm on 8/31/17.
Here's how it works…
There is a $15 non-refundable entry fee per photo.  For animals adopted from PAWS, the entry fee is only $10.  All proceeds benefit the adoptable animals at PAWS.
The only rules are no collages and the calendar is only for companion animals (dogs, cats, and small critters).  If you have questions on our calendar contest, please e-mail pawsparisky@gmail.com.
Vote for the winners!
YOU have the power to choose the front cover! Once the top 13 are chosen, you'll be able to vote for your favorite. The photo with the most votes wins the cover spot!
Secure your copies of the calendar!
Pre-order the 2018 PAWS calendar online today! They are expected to be available for shipping or pick-up by November 2017, but we'll email you a reminder once they're ready. If you entered your animal's photo in the contest, they're guaranteed to appear in the calendar, so you can show off your precious pet pics to all your friends and family!